THE OFFICIAL HOME OF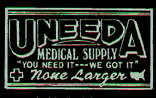 1985 was the year of the return of the living dead. It was the year this classic was released but also the year the living dead really returned to life, or at least to movie theatres. Out of all the zombie draws that year (and there were lots, including Warning Sign, Ghoulies, Supernaturals, ReAnimator, Lifeforce, and George Romero's ghoul gala Day of the Dead), Return was the most successful and well-received by critics and the other species known as humans.

The charm about this horror-comedy is its storytelling. A chain of events gets worse and worse and the direction and acting just pull you in (unless you're dead of course). Then again maybe not. Because if you are dead like the ghouls in this one, you are quite alert and energetic. Not to mention you've got lots of intelligence in your brain. Uh oh. Did I say the b-word? Well, good because brains are served up as the main course here. And I'm not talking pickled...I'm talking "live" brains. Speaking of talking, did I mention that the living dead talk too?

This movie captures a lot of my morbid curiosities. From century-old overcrowded cemeteries to dirty, creepy medical warehouses (like the virtual one you're visiting), funeral parlors and rigor mortis, black humor, gallows humor, death-fixated punk kids, nuclear contingencies, army cover-ups, police car crashes, gravestone strip downs, stormy nights, weird and deadly chemicals, cremations, mummies, you name it.

Simply put, though they've been dead for a long time, these zombies still show a lot of spirit.

And one more thing to remember..."No matter what happens ...don't name it after me."
UPDATES
So the inventory won't lose its freshness..

2009 - Happy Tenth Birthday of the Uneeda web site. Not much to report as always (sorry - I don't care what times this movie is coming on cable this month, what movies so and so are in this year, who is at Horror Weekend/Fest/Con etc or who is doing a Tar Man action figure as they never come out right...) But one thing worth mentioning is a site called Archivesofthedead.com has been shut down for copyright infringement. Seems the webmaster wanted to collect all the text and item #s on by my DAWN, DAY and RETURN sites and use it to appear as a zombie memorabilia expert. My sites - however infrequently they're updated - are protected, it's intellectual property and jeez, they've been here for ten years now filling up the search engines! You can fool some of the people some of the time... So if the guy continues his method of posting info from my site without permission or anyone's for that matter, maybe some of you can catch it next time. 8-28-02 Ready for the DVD review? As I initially warned the petitioners last year, MGM is clueless, and gave us a bare bones edition, with the version we didn't want. Hope someone's happy but let's count the cons. Read all about it here.
Also introducing a new section - INTERVIEWS! Who's first? Find out here.
Also adding text back to the old pages now that I have clearance from the publisher.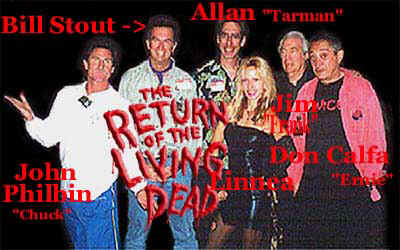 Also changed the DVD page around in anticipation of the MGM DVD, which is a nice package as you will see....but doesn't contain the right soundtrack...read about what went wrong.

5-02 Drop me a line at Trioxin5@aol.com and tell me what you may be looking for. Uneeda's Summer Clearance Sale is one month away! And this one will be the biggest and possibly last one.

DEPARTMENTS

DISTRIBUTION

VIDEOS

DVD REVIEW

POSTERS (Updated 8-01-02)

MISCELLANEOUS

NOVEL

SOUNDTRACK

INTERVIEWS
Cast
BRIAN PECK-Scuz
LINNEA QUIGLEY-Trash

Crew
TOM FOX-Producer
TONY GARDNER-Effects
BILL MUNNS-Effects
DAN O'BANNON-Writer/Director

SEQUELS

1978 STORY

LINKS



Over

cadavers sold
since 6-20-99.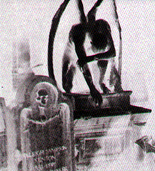 It hurts to be dead.

This site created and maintained by Trioxin5
Copyright © 1984 Hemdale Presentations/Fox Films Productions. All Rights Reserved. Copyright © 1984 Cinema '84, a Greenberg Bros. Partnership. All Rights Reserved. Copyright © 1985 Orion Pictures Releasing Corp./MGM Home Video. All Rights Reserved.
Uneeda logo and ROTLD logo Copyright © 1984 William Stout, Inc.