DISTRIBUTION
Photo courtesy/collection of Jewel Shepard.
A Halloween or early November 1984 wide release was scheduled with a NYC and L.A. September premiere but had to be postponed to work out the last details.
The film was edited and was still on the distributor's back burner well into Spring of 1985. Humorist Matt Groening (later the creator of the animated Simpsons) was hired to come up with the slogans used overseas and in the US trailer: "They're back...they're hungry...and they're not vegetarians!" One of Matt's favorites was rejected: "First they want to meet you then they want to eat you." Ultimately, the studio chose "They're back from the grave and ready to party!" However, in Italy, the blurb was "...that day when there's no more room on Earth." A tongue-in-cheek reference to Dawn of the Dead's infamous "When there's no room in hell...the dead will walk the Earth."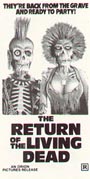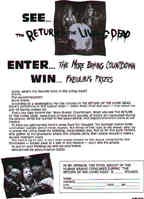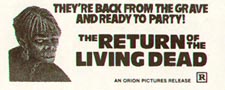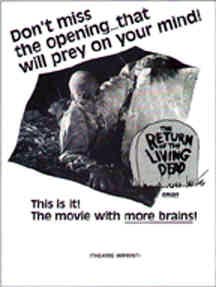 Orion Pictures finally brought The Return of the Living Dead to 1500 theatres nationwide on August 16, 1985. Party tie-ins were included with Orion's promotional manuals. Music store tie-ins encouraged banners that read "We've got sounds that will knock you dead." Or "Shake, rattle and roll with the living dead." Or "Hear the hot new score that will wake the dead." Radio contests should have winners "live it up with the living dead": a couple gets picked up a hearse to go to a local cemetery for a picnic, or center seats at the local theatre to see the film with all the snacks they want. Other contests include premiere parties that serve Bloody Marys, Zombies and "embalming fluid" as well as heads of lettuce, artichoke hearts and split dogs...hot dogs that is. College tie-ins encouraged students to proclaim their intelligence by wearing the More Brains cap. And members of MENSA and Phi Beta Kappa even could get in free to the film if they could prove in I.D. they had "more brains." TV stations were given horror film quizzes to show stills from and have viewers identify to win their way in. Fangoria magazine had a storyboard giveaway in October, with second prizes being soundtracks and buttons. Other promotional pieces included pinback buttons reading "More Brains!" (still easily found today), matchbooks, stickers reading "Beware! The Return of the Living Dead" and of course, t-shirts. The poster art was printed on a white t-shirt by Orion while Thom Mathews marketed a variety of slogans on black or white shirts or sweaters via his Skull Productions – More Brains!, Send More Cops, I Know You're in Here Because I Can Smell Your Brains, Uneeda Medical Supply logo, and a graveyard scene with the title. A black and red Filmcrew shirt was designed by Bill Stout, who also allowed Fangoria magazine to have a storyboard giveaway in October, with second prizes being soundtracks and buttons. (Thanks to Michael Le Blanc for the storyboards)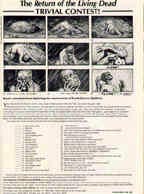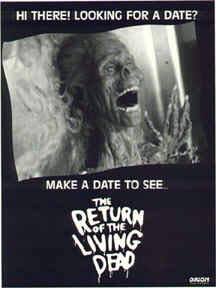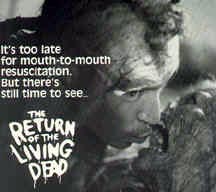 Critics everywhere gave it favorable reviews that summer. Chicago Sun-Times' Roger Ebert gave it a thumbs up and three stars out of four: "It doesn't make the mistake of Day of the Dead - talking too much. It's kind of a sensation-machine, made out of the usual ingredients, and the real question is whether it's done with style and it is." Variety praised it's sense of humor: "terrifically funny first half hour...greatly aided by the goofball performance by Karen...pitting some punks against the undead was a good idea. Calculatedly hip, genuinely witty approach of O'Bannon will win a deserved cult following. The Casino Royale of the undead genre." Rita Kempley of The Washington Post saw through the humor and called it "a genuine, gross out thriller. Excellent, aptly chosen cast...an anti-nuclear protest and a workaholic's metaphor. If Alien is about cancer, then this is about the plague." Alan Jones of Cinefantastique called it "one of the best roller coaster rides to be had in a while…better than Dawn of the Dead." I agree!

The only overtly negative review this author found was from Roger Hurlburt of the Fort Lauderdale News, who gave it a half a star rating, with a rather scant review. "The scariest thing about this movie is not the zombies, it's that such a film was made because an audience actually exists that will pay to see it." Perhaps LA Times' reviewer Michael Wilmington had a better understanding of the target audience. "It presupposes a cynical audience with strong stomachs, yet such an audience will find it hilarious...because of the movie's stylization, the witty way that O'Bannon toys with horror movie cliches, his flair for offbeat dialogue, his cold-eyed satire. The movie's irreverence is actually refreshing; it's a tonic nastiness."
O'Bannon was asked in Heavy Metal magazine if he had seen Romero's Day of the Dead shortly after the release of Return: "I haven't seen it. Haven't read the script. He read my script long before he started shooting. I tried to guess what he might make, based on his other films...he is considerably more interested in the biological details of the matter. I think that my film will be easier for the average audience to sit through than Romero's. Mine's a comedy. I certainly look forward to his film. I tried to stay as far as possible off his toes. What it is, to the extent that it is based on Romero's, is an homage to him....without any attempt to be as potent as he is in his own specialty. There's just no point. I mean, he can do it better."
George Romero was not amused by the movie. He never told journalists what he thought of Dan's film. But he did go on to say that Jack Russo was "ripped off" on his own website message boards in 2000. "I'm surprised Romero got as upset as he did", Dan explained to Fangoria. "Imitation is after all, the sincerest form of flattery. Airwolf didn't raise my blood pressure and neither does the thought of Aliens. In my movie, I say that the events took place 14 years ago which of course isn't accurate." Tom Fox received only positive reactions from Russo. "He loved it. He had no problems with it."
Even O'Bannon would change his view on ROTLD. "To me, it was very far from perfect. It was an idea that did not need to be made" he told The SciFi Channel in 1996. "It wasn't a great hit and the reason for that was the core notion of the thing was not particularly gripping. This was a case of me taking a job, and working with a very thin notion. That's the main thing I don't like about it and there are various lesser things I dislike about it…having directed two pictures, I am no longer convinced of my great directorial ability."
Previously to ROTLD released in Europe, Dawn of the Dead had been called Zombie: The Return of the Living Dead...that was changed to Zombie: Twilight of the Living Dead in the mid 80's to avoid confusion.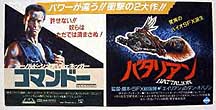 Elsewhere in the world the film took on very different retitlings: Germany's Metropol company marketed it as Verdammt! Der Zombies Kommen ('Dammit! The Zombies Are Coming'), in Thailand, Apex Films advertised it as Phi Leum Loom ('The Spirits Who Forgot Their Graves') and in Japan, Towa called it Battalion. From the Japanese program: "the word "battalion" originally means "troops in combat", but in this movie it means "scary new creature."