ONE DARK NIGHT MARKETING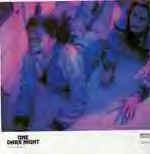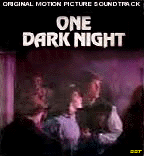 This is one of those films that really did not have much in the way of promotional items or memorabilia. An American press book (with color pictures, ad mats and synopsis) was produced along with the one-sheet (although visually striking, it gave away part of the climax). No program books were issued either in the U.S. or abroad. However, unusual tie-ins appeared unofficially from two companies – both Halloween masks of Raymar.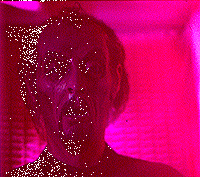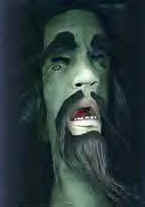 The first, from Topstone, is rather unfaithful to the character's likeness, while the second by Distortions Unlimited was apparently modeled very closely to (or from) the Tom Burman mold.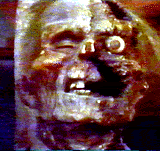 The "Miss Nelson is Back" episode of Reading Rainbow (a PBS children's show) featured host LeVar Burton visiting Tom Burman's effects shop for a monstrous makeover. In the background, posed for the camera, are a few of the film's memorable corpses including the first corpse, the war veteran and the young bride.
---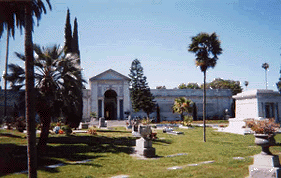 The Hollywood Mausoleum today
PRODUCTION CREDITS
Meg Tilly (Julie), Melissa Newman (Olivia), Robin Evans (Carol), Leslie Speights (Kitty), Donald Hotton (Dockstader), Elizabeth Daily (Leslie), David Mason Daniels (Steve), Adam West (Allan), Leo Gorcey Jr. (Barlow), Rhio H. Blair (coroner), Larry Carroll (TV reporter), Katee McClure (female reporter), Kevin Peter Hall (Eddie), Ted Lehman (drunk), Nancy Mott (Lucy), Martin Nosseck (caretaker), Albert Cirimele (reporter), Shandor (Russian minister), Julie Chase, Peaches Johnson (stand-ins). Director: Thomas McLoughlin, Producer: Michael Schroeder, Screenwriters: Thomas McLoughlin, Michael Hawes, Director of Photography: Hal Trussel, Executive Producer: Thomas P. Johnson, Production Designer: Craig Stearns, Editors: Michael Spence, Charles Tetoni, Costumes: Linda Bass, Art Direction: Randy Moore, Makeup Effects: Tom Burman, Ellis Burman, Bob Williams.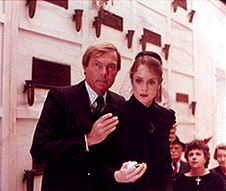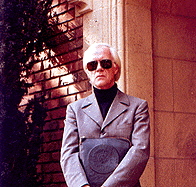 Meg Tilly (who'd been in Fame and Tex before this) went on to star in a few more thrillers Psycho II (1983), Impulse (1984) and Body Snatchers (1995). She also starred in The Big Chill (1983) and Agnes of God (1985). Other credits include Valmont (1989), The Two Jakes and Camilla (1990).

Melissa Newman is the daughter of Paul Newman and Joanne Woodward, and has appeared in various TV series including a role on Robotech (1985).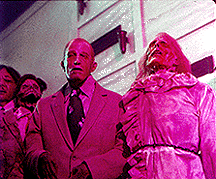 Robin Evans had done some TV before like BJ and the Bear and TJ Hooker. She was also in High School USA.

Leslie Speights was A.J. in Challenge of the Gobots.

Elizabeth Daily has been in all kinds of movies, Valley Girl, Streets of Fire, Pee Wee's Big Adventure, Better Off Dead, etc. And she does animated character voices. Rugrats, Duckman, Powerpuff Girls, The Simpsons among them. But she is most famous for being a babe...Actually THE voice for Babe: Pig in the City (1997).

That is THE Adam West, original Batman…who took the role to be in "something different". In 1986, he appeared in Zombie Nightmare (one of the worst zombie movies ever). He has done tons of movies.

Donald Hotton has done a multitude of TV work, but he's also in Nightwing (1979) and Invaders From Mars (1986).

David Mason Daniels (who always reminded me of a young Christopher Reeve meets Adam Baldwin) was in T.A.G. (1982), and his locker room friend played by Kevin Peter Hall in the movie, went on to become Bigfoot in Harry and the Hendersons (1987) and the title creature in Predator the same year. He died sadly a few years after.
McLoughlin in 1982 had this to say about slasher flicks: "I think the maniac-with-the-knife theme has pretty much exhausted whatever it had to offer, which is basically new and imaginative ways of doing someone in." His next films? Friday the 13th VI: Jason Lives in 1986, Date With An Angel in 1987, Sometimes They Come Back in 1992, Freddy's Nightmares, and many a TV movie.
The International Movie Database mentions Night of the Dead (1993) as a remake by the filmmakers but rest in peace....it is incorrect information. It never happened.